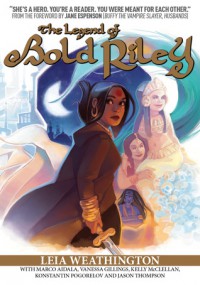 A graphic novel, or a series of comics, about an Indian princess who goes by the name Bold Riley. A restless spirit, she leaves the palace as soon as she is old enough to set out and see the world. She is not simply a rich girl on a very long vacation, though- quickly pulled in to situations with Indian gods and spirits, pranks, traps, danger, and people who need her help. She is a girl on a mission, even as she wanders and goes where the wind leads her. She is a hero.
This book is split into a few parts, separate stories and adventures narrated as legends. Each one has its own separate are style, as if you have suddenly stepped into a completely different world as the stories progress. They actually do seem to be reminiscent of different art styles depicting places that in the real world would correspond to different countries and continents. They are beautiful, unique and wild. I loved them.
Stories of bravery, love, sacrifice and kindness- topped with some creepy demons, sword wielding, blood and gore.
An empowering type of story, very enjoyable, very recommended.